Holy Week in the Parish
Maundy Thursday ~ 1st April
Agape Meal

The Thursday before Easter commemorates the washing of the feet and the Last Supper of Jesus with his apostles.  Join us as we re-watch Revd. Hugh Barne's virtual Maundy Thursday service online from last year. The video will be available all day.
There are also many other services available including a service broadcasted by the Oxford Diocese.  Discover more...

---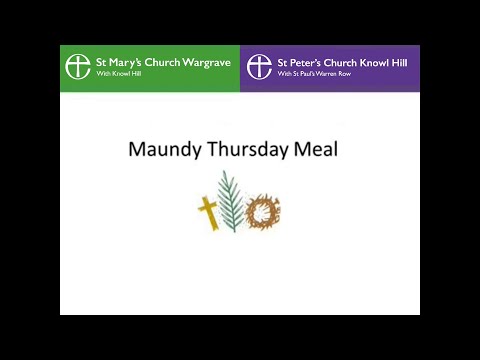 ---
Walk of Witness
Join us on Good Friday at 11am for a simulated Walk of Witness at St Mary's Church following Mark's account of the Way of the Cross.  Instead of walking around the village as a church we invite you to walk with your bubble to St Mary's for a service with music and readings.
---
Family Trail - Mill Green - 2-4pm
Come and join us for a fun family trail on Mill Green! Find out about Pilate, Peter, Mary Magdalene and many others. Discover all about the people who were there and witnessed the death of Jesus, over 2000 years ago.  Piece together the letters to discover a winning sentence for a family prize!  Smart phones will be required to scan QR codes.  Please bring masks and be aware of social distancing.
We'll be on Mill Green from 2-4pm.  No need to book.  Just turn up.

---
Easter Sunday ~ 4th April
Services in Church
Join us for one of our services throughout the Parish:
St Mary's, Wargrave

8am - Easter Holy Communion at St Mary's - a said service in traditional language

9.15am - Easter Family Worship at St Mary's - a short informal all age service with a talk, drama and songs

10.30am - Easter Holy Communion at St Mary's - a service in contemporary language with music
10.30am - Easter Holy Communion at St Peter's
RESERVE YOUR SPACE at St Peter's
Please note, it is essential to reserve your space at ALL of these services to ensure adherance to the government guidelines on social distancing.
Online Service
For those not able to join us in person, please do join us online for an Easter Communion at 10.30am.